Information

Set out on the water well prepared!

We would love to let you enjoy a wonderful holiday. Proper preparation is essential here. At Marrenvloot, we leave nothing to chance. You will find all the important information for a worry-free boating holiday on this page.

Directly to: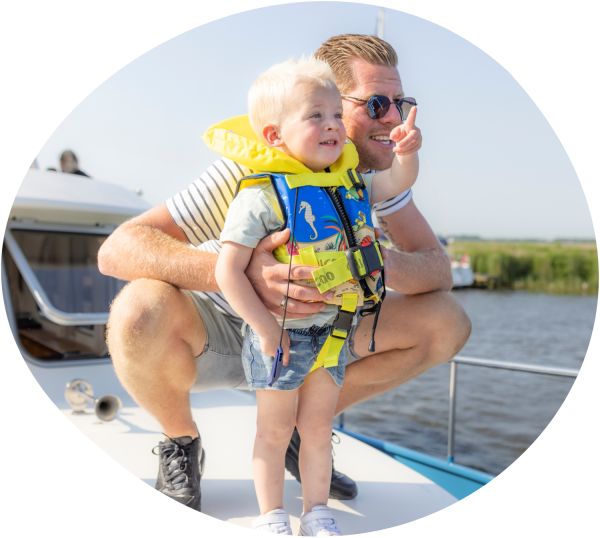 Do you have questions about our yachts, services or boating in general?
What kind of coffee maker is available on board?
On board our yachts, a filter coffee machine is provided. Please do not bring your own. We have carefully selected our appliances to match the yacht's power consumption. You can order any coffee and filters from the added services.
What are the arrangements for electricity on board?
All our boats are equipped with an inverter. This ensures that you have 230V on board, even if you are on the water or do not have shore power. Please note: you will have enough electricity on board for one night. After that, you must sail again or use shore power to charge the batteries. You cannot use as much electricity on board as you are used to at home. For example, a hairdryer and espresso machine consume too much power.
What about the ship's insurance and the security deposit?
All our boats are all-risk insured. For this, you pay a deposit of 750 euro excess (for the Aron, this amounts to 1,000 euro). In case of any damage, please fill in the damage form on board. Please give it to the harbour master on your return. She will retain the deposit and handle the settlement with the insurance company.
Have you caused damage to another ship? Always take photos and write down all the details clearly. This enables us to contact the relevant party. Do you want the option of cancelling your boating holiday? You need to arrange cancellation insurance yourself. The HISWA conditions also contain information on this.
Regarding bed linen, what is provided on board, and what do I need to bring myself?
If you have not ordered bed linen, there are only pillows and a cover for the mattress on board. You will need to bring your own pillowcase and duvet. Did you order bed linen? Then the bed will be made up for you!
What is a Marrekrite spot?
In Friesland, you will find Marrekrite sites everywhere. These are jetties where you can moor and spend the night in nature or on an island. You will need a Marrekrite flag for this. You can buy these at our office for 15 euros. You can then enjoy the benefits all year round. Please note that there is no electricity at the Marrekrite sites.
What are the rules and regulations on the water?
Are you not familiar with the rules and regulations on the water yet? Follow a short boating course; SSH Boating will teach you – among other things – how to suspend the fenders, which knots to use to secure the boat and what the rules and regulations are on the water. SSH will also teach you how to sail, moor and make certain manoeuvres. Everyone on board will be included. Would you like to familiarise yourself with the basics? The five most essential sailing rules and regulations are listed on this website!
Do I have to refuel the ship after use?
You leave our port with a full diesel tank (Traxx diesel). When you return, we will refuel the ship for you. You will only pay for the fuel used.
Where can I park my car?
You can park your car in our car park. At night, we lock this location. So, your vehicle will be safe behind the gates.
What is the distance to the centre of Sneek?
Our charter marina is within walking distance (+/- 10-minute walk) from the lively centre of Sneek. You are, of course, very welcome to stay overnight at the marina.
Can we sail with the yacht on the IJsselmeer?
You may, as long as the wind force does not exceed 3 Beaufort.
Can we take the yacht onto the Wadden Sea?
This is only allowed in consultation. The harbour master makes the final decision.
What are your company details?
Charter en Service Sneek BV
Chamber of Commerce: 01067541
VAT number: NL802475814B01
Important information

So you always know what you can expect!

Our ultimate goal is for you to enjoy a carefree holiday. That is why we thoroughly check all our ships before they leave. Do you still encounter problems en route? We are available by phone to get you back on track as soon as possible.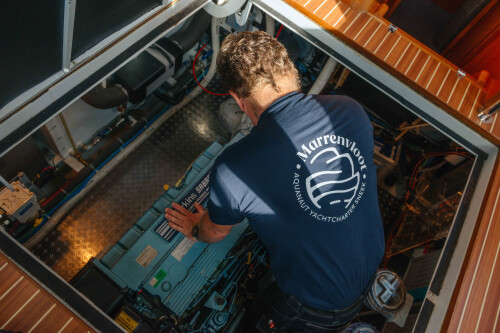 Rental conditions

Always know what you can expect!

At Marrenvloot, we like clarity and transparency, so you always know where you stand. We rent our yachts under the "HISWA general conditions for renting and hiring a pleasure craft". Check out our terms and conditions and those of HISWA below!
Any questions?

We would love to get in touch!

Do you have any questions about our rental yachts or services? Or would you like to know more about sailing in Friesland or taking a sailing course? Feel free to contact us. We will be happy to help you!